Back to all posts
Posted on
Masking at Extracurricular Events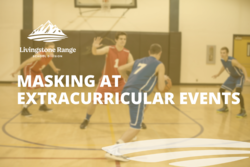 Superintendent Darryl Seguin provides clarification on masking at extracurricular and athletic activities.
September 15, 2021
Dear Parents, Guardians, Students, and Staff, 
Thank you to our students, staff, and parents/guardians for all you are doing to support learning in a safe environment in Livingstone Range School Division. 
On August 26, 2021 we released our LRSD 2021-2022 School Year Plan and COVID-19 strategy. Upon further consultation with Alberta Health Services (AHS), we received additional information that the provincial masking requirement (CMOH Order 40-2021) applies to indoor extracurricular activities where the public may attend.
Therefore, effective immediately, masks will be mandatory for all visitors to the school including at extracurricular and athletic activities. This mask order does not apply to staff or students engaging in school-related programming and events during or outside of school hours. 
Our 2021-2022 School Year Plan has been updated to reflect this clarification. As always, we will continue to monitor and adjust for any further guidance/changes from Alberta's Chief Medical Officer of Health. 
Sincerely,
Darryl Seguin
Superintendent of Schools