Back to all posts
Posted on
Fall 2021 Opportunities for High School Students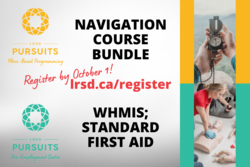 High school students can take advantage of unique pre-employment and place-based course offerings this fall.
LRSD Pursuits Place-Based Programming offers a Navigation Course Bundle where students learn map reading, using a compass and topographic map to trip plan, and navigational technology. This 3-part course runs in the Crowsnest Pass on October 15, October 29, and November 5 for a total cost of $140. Earn credits while enjoying the beautiful outdoors this fall! 
Download the Place-Based Programming flyer for full details.
Students looking for certifications that will be useful for future jobs can register in LRSD Pursuits Pre-Employment Centre courses:
WHMIS: 

Workplace Hazardous Materials Information System (WHMIS) training. This course will provide students with the necessary knowledge to receive their WHMIS certification. Date: October 22. Location: G.R. Davis Administration Building in Fort Macleod. Cost: $25 deposit to be refunded upon course completion.

Standard First Aid Level C: Students will be enrolled in the online portion of the course upon registration and will be required to have this completed by the in-person session on November 12. Location: G.R. Davis Administration Building in Fort Macleod. Cost: $70 (non-refundable). Earn credits for this course!

Download the Pre-Employment Centre flyer for full details.