Tech Help
Logging in
Accessing Hapara
Hapara is the platform your At-Home learning teacher will be using to share activities and assignments with you.  To login, use the following steps: 
On a browser window, begin by typing in the url: https://mystudentdashboard.com/#/login
This page will prompt you to login using your Google account. Click "Sign in with Google." 
Next, you will be prompted to login with your student LRSD email. Each email will follow the formation of:
graduationyear lastname firstinitial @lrsd.ab.ca                                                               (For example, Tina Lee will login with: 26leet@lrsd.ab.ca)
Once logged in, your child will have access to all their class workspaces! Have them explore the workspaces, the To-Do's, and Files. 
If there are any problems along the way, please contact your teachers immediately to try and rectify the problem. 
If your child does not know their login or password, please contact their home school to set it up. 
My School email
I have an LRSD email?
If you are a student e in the school division you have an email that ends with @lrsd.ab.ca. 
How do I get to it?
There are MANY ways to get to your LRSD email. If you are already logged into Google Chrome (the browser or a chromebook), then you can simply click on the waffle (that funny Rubik's cube thing at the top right) and in there you should see Gmail. Your LRSD email is a gmail account.
If you aren't logged into Chrome, you can still get there by going to http://gmail.com. Once there, enter your LRSD email address. Your email address is in the following format: graduationyearlastnamefirstinitial@lrsd.ab.ca.  For example, if John Smith is a student that graduates in 2026 his address would be: 26smithj@lrsd.ab.ca
When you enroll in a virtual school course, your teacher will send you an invitation to your class via your school email.  Please be sure to check it daily!
Google chat
My teacher wants to talk to me in Google Chat. What do I do?
A Google Chat is simply a place where people can either chat by typing, or have a video chat.
The easiest way to get to Chat right now is to go to chat.google.com
As long as you are logged into your Chrome browser using your Livingstone Range School Division information, you will have access to everyone else to chat with (if you aren't logged in, it will make you do that).
To find your teacher, click in "Find people, rooms, bots" at the top left and start typing their name. Once you find them, click on their name and then in the right half of the Chat you can talk to them or start a video
Google MEET
Accessing Google Meets:
Your virtual school teacher will have sent you a link to join online classes. In order to avoid the jumbleof always searching for that link, simply join the class using the following steps! 
Login to your LRSD email account. 
In the top right corner of your email, click the calendar button. 
This will open your daily calendar. In your calendar, you should see any meetings you are invited to attend. 
Click on the meeting you would like to join. Then, select the "Join Google Meet" prompt.
Mute your mic and click "Join Now" to enter your class meeting.


Screen capture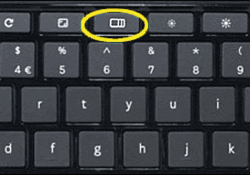 How to take a screen capture
Chromebook (or Chromebox):
To capture the whole screen, hit Ctrl F5, or Ctrl and the Windows Switch key (see the picture to the right)
To capture only part of the screen, hit Ctrl-Shift F5 or Ctr-Shift and the Windows Switch key. Then, use your mouse to select the part of the screen you want.
Windows/PC Computer
Find the Snipping Tool! Look in Start> Accessories>Snipping Tool.
Cut/Copy/Paste without your mouse
If you're on a computer with no mouse, or one that has right click disabled, it seems impossible to cut/copy/paste! You can do it, though, by using some keyboard shortcuts.
Highlight the text or image you want to copy/cut using your mouse (like drag the arrow over the text until it is all selected) and then
to copy:  Ctrl-c           This means hold down the Ctrl key and then hit c
to cut:  Ctrl-x
to paste: Ctrl-v
to undo: Ctrl-z
Scanning with a cellphone
Scanning with an iPhone
iPhones actually have a built in scanner! 
1. Open up Notes
2. Start a new Note.
3. Click on the Camera Icon
4. A menu will open. Choose Scan Documents.
5. Position the phone over the document and take a 'photo' of it using the button on the screen. After your phone captures the shot it may give you corners to control what all is in the image. Move those so that your page is there, but no background! Hit Keep scan when you have the corners right.
6. Scan the next page, and the next page, until you have them all. The 'Save' will show how many pages you've got scanned so far. When done... hit Save! Name your file something meaningful.
7. Now, to get that scanned file to your computer, at the top right you should see the usual 'send' icon. Use that to email the file to wherever it is needed (maybe just to yourself so that you can get the file onto your computer and hand it in.)
CamScanner
There are lots of free scanner apps available for your phone. This talks about how to use CamScanner.  
You're going to scan all of your pages into one file and then upload that file to your Google Drive.
This tutorial is looking at how to use CamScanner. You can find it on your app store. It is important that whatever scanner you use scans as PDF files.
No matter what app you use, you need one that lets you scan all of your pages and then it puts them together in one file. A 4 page assignment should be ONE file that when your teacher opens it, they see 4 separate pages.
Start by opening the CamScanner App. You should see a green camera at the bottom of the screen. Press that.
Your phone should now act kind of like you're going to take a photo. Make sure it says 'Batch' if your assignment has more than one page to it!
Hold the screen square over each page in order and 'take photos' until you have all of the pages captured. When you're done, you should see the number of pages at the bottom right.
Click on that image at the bottom right when you're done. Scroll through the images to make sure they are selecting the right area and aren't blurry. If they're blurry, try again! When they're all good, if you want, you can rename the document at the top of the screen, and then click the green arrow at the bottom right.
You should now see all of your pages on the screen. At the bottom are the options you have for sending that photo elsewhere.
You do NOT want to pick any option that says SHARE. You want to actually send the file. To do that, select More from the bottom right. Then, select Upload.
Pick your favourite cloud based storage -- likely Google Drive, since that is what comes with your LRSD account. You may have to log into Drive, but you know how to do that.
Be sure to choose the PDF file. It will also ask you to select which folder in your Drive. Once you have it where you want, click Upload Here and then it should upload it for you.
Reference:
https://sites.google.com/chinooksd.ca/chinooktechnologytipsandtricks/ccs-students-and-parents?authuser=0
How to use Read/Write for Google
Click HERE to watch a short video to help you use Read/Write for Google.