Back to all posts
Posted on
In-Person Classes Resume May 25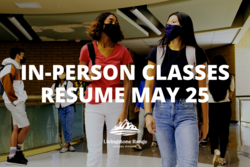 Education Minister Adriana LaGrange announced Wednesday afternoon that Alberta Kindergarten to Grade 12 students will return to in-person classes on Tuesday, May 25. After learning at-home for the past two weeks, staff and students will return to classrooms as planned.
In a letter from the Minister, she stated:
"Alberta's government recently announced that all Kindergarten to Grade 12 students across the province would temporarily shift to at-home learning beginning May 7, with a targeted return to in-school learning on May 25. This decision was part of a province-wide approach to limit the spread of COVID-19, as well as to relieve some operational strains our system has experienced. As you know, schools in Alberta were experiencing a shortage of substitute teachers, rising numbers of students and staff in quarantine or isolation, and increased community spread that was reflected in the increasing number of cases in schools.
"Given the positive impacts of this recent decision, we announced today that in-person learning will resume for all Kindergarten to Grade 12 students across the province as planned, with the exception of the regional municipality of Wood Buffalo. The reset was successful in nearly all regions across the province and helped alleviate some of the operational pressures tied to the rise of COVID-19 cases."
We are so happy to welcome all staff and students back to school next week after the long weekend!