Scholarship and Loan Information
MegaMinds Scholarship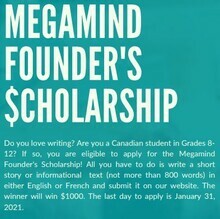 Attention all students in grades 8 through 12!
Do you love writing?
Do you want a chance to win $1000?
To successfully apply for the scholarship, applicants must submit a short story or informational text on a topic of their choice in either English or French.
The text must consist of 400-800 words and must be targeted towards children from ages 6-13.
Paying for your education 
An extensive list of funding options and opportunities - Click Here
Alberta Student Aid, Loan information and Applications - Details
Student Line of Credit
Financial Consumer Agency of Canada provides a detailed description of a student line of credit - Details
Contact your local bank or credit union for student loan/line of credit details
Pincher Creek Credit Union Limited
Scholarships
An extensive list of funding options and opportunities - Click Here
Matthew Halton Scholarships 101 Booklet - Click Here
Rutherford Scholarship - Click Here
Pincher Creek Lions, $1000 - May 1 (please note that the application needs to be submitted to the local club in May)
Glen Keeley Memorial  $2000- Aug 1
Livingstone Range School Division Scholarships
All are due May 15th
Dr. Lloyd Cavers Scholarship - School-based Nomination, $200 for nominees and $1000 for the division winner
Livingstone Macleod Association Bursary Fund, $2000
ENMAX Environmental Leadership Scholarship, $1000
Alberta Student Aid and Rutherford Scholarship
One account for both - Details
Alberta High School Scholarship List - September 8, 2020